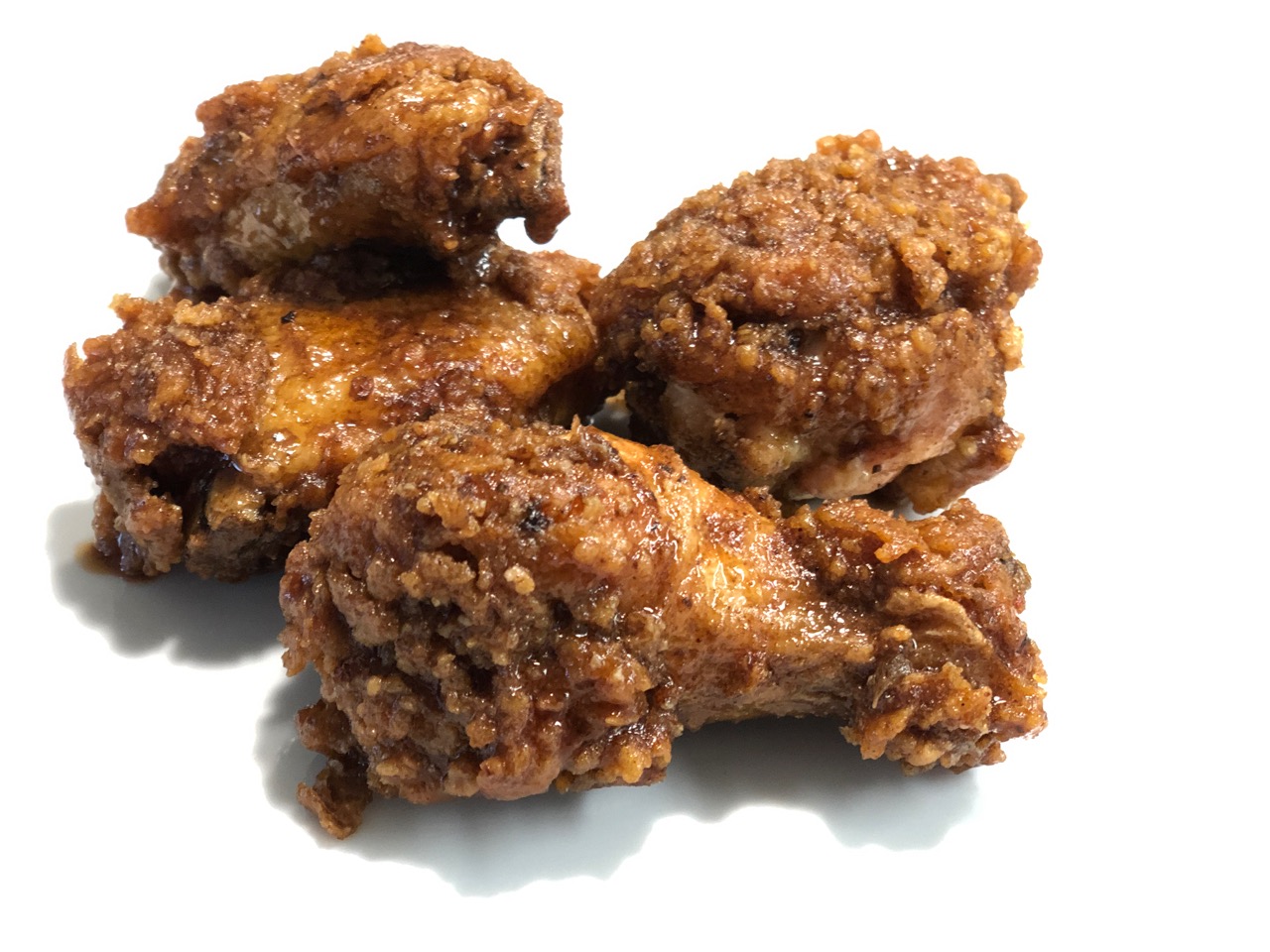 HELP ME JESUS MAKE 
HOT WINGS
INGREDIENTS
1 part Help Me Jesus Sauce
1/3 part pure honey
DIRECTIONS
Use either original or ghost pepper for a kicked up chicken wing. The coating is 1 part Help Me Jesus Sauce and 1/3 part pure honey. Be sure to use a whisk to mix both thoroughly.
For the wings to get them really crispy, pat dry and season with salt and pepper. coat the wings with a light dusting of baking powder for crispiness. Then dredge through an egg you have used a fork to mix up in a shallow bowl. Then into the flour that should be seasoned with salt and pepper. Fry at 350 degrees in a pan or deep fryer like a Fry Daddy. Put the wings on a rack to cool slightly before tossing them in the HMJ/honey mixture.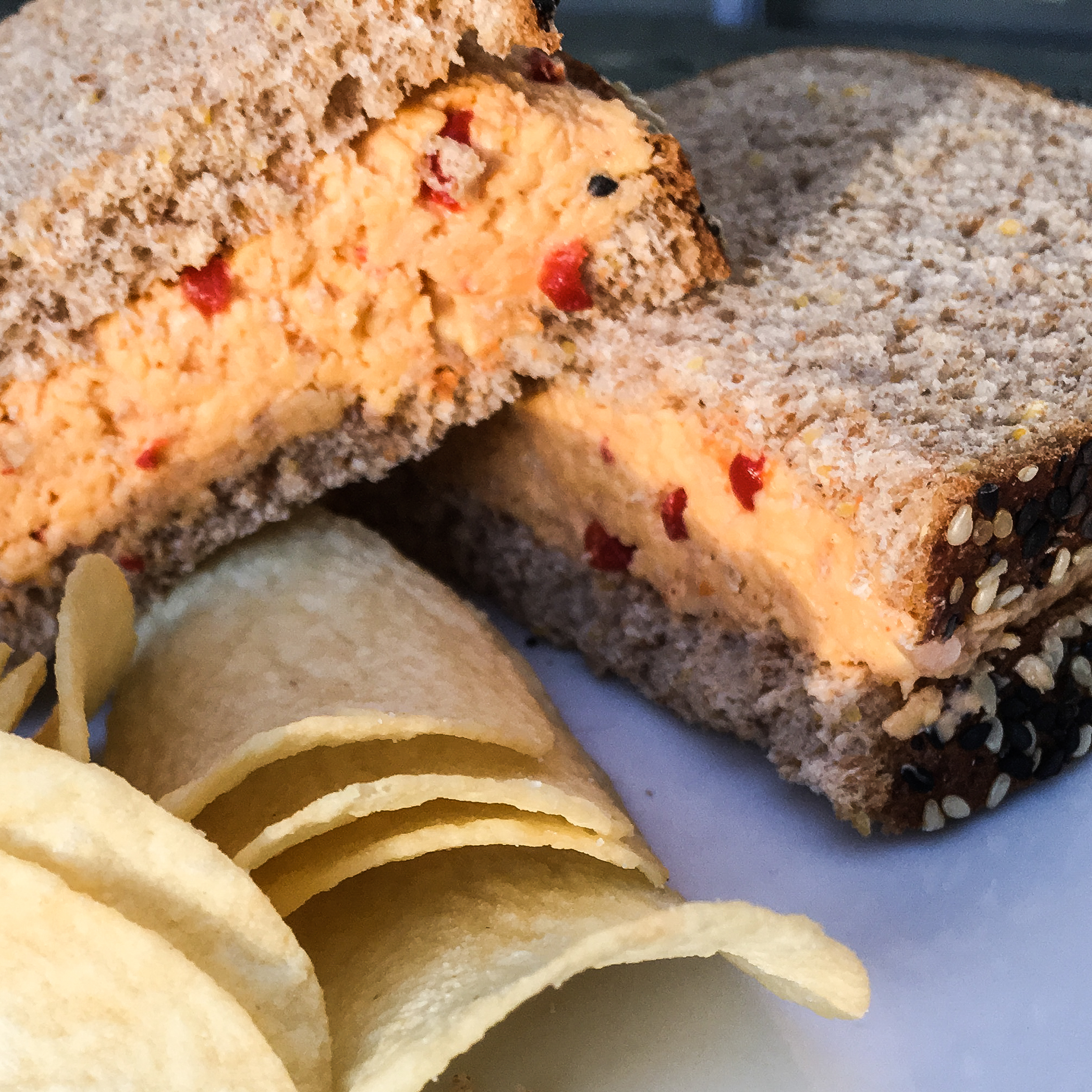 HELP ME JESUS MAKE
PIMENTO CHEESE
SERVINGS: 2.5 cups
INGREDIENTS
8-ounce sharp cheddar grated (best if room temperature after grating)
1.5-ounce Pimento chopped
1/4 cup mayonnaise (Dukes brand if you can get it- has less sugar)
2 tablespoons minced onions (sweet - Vidalia preferred)
2 tablespoons (heaping) sour cream
1-2 ounce Help Me Jesus® Hot Sauce
1 teaspoon chopped chives
Pinch of cayenne or serrano granulated pepper
DIRECTIONS
Mix together all ingredients except cheese. Once all other ingredients are blended well add the cheese. I use a hand mixer first and then a spoon to smooth it out.
Taste is always better the next day.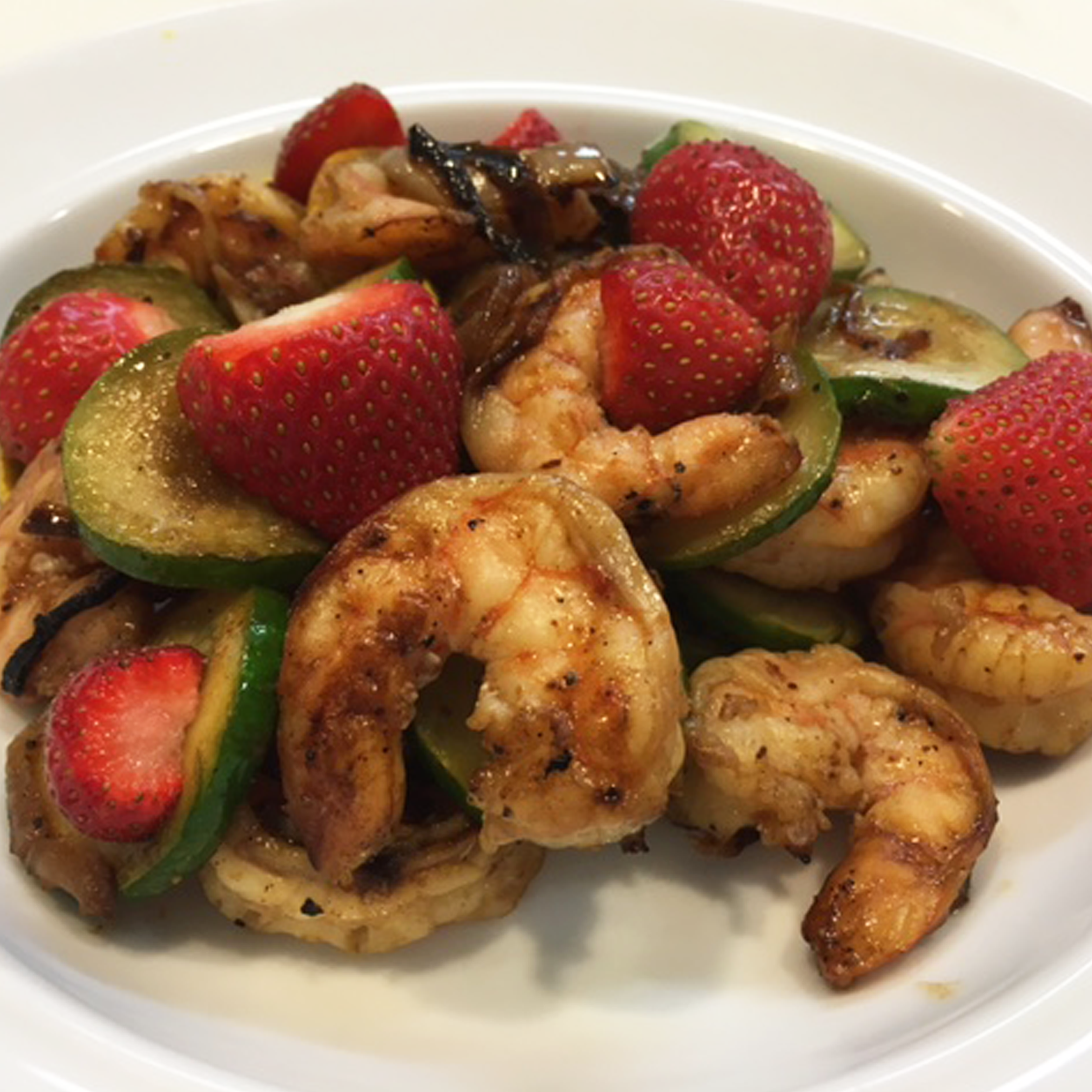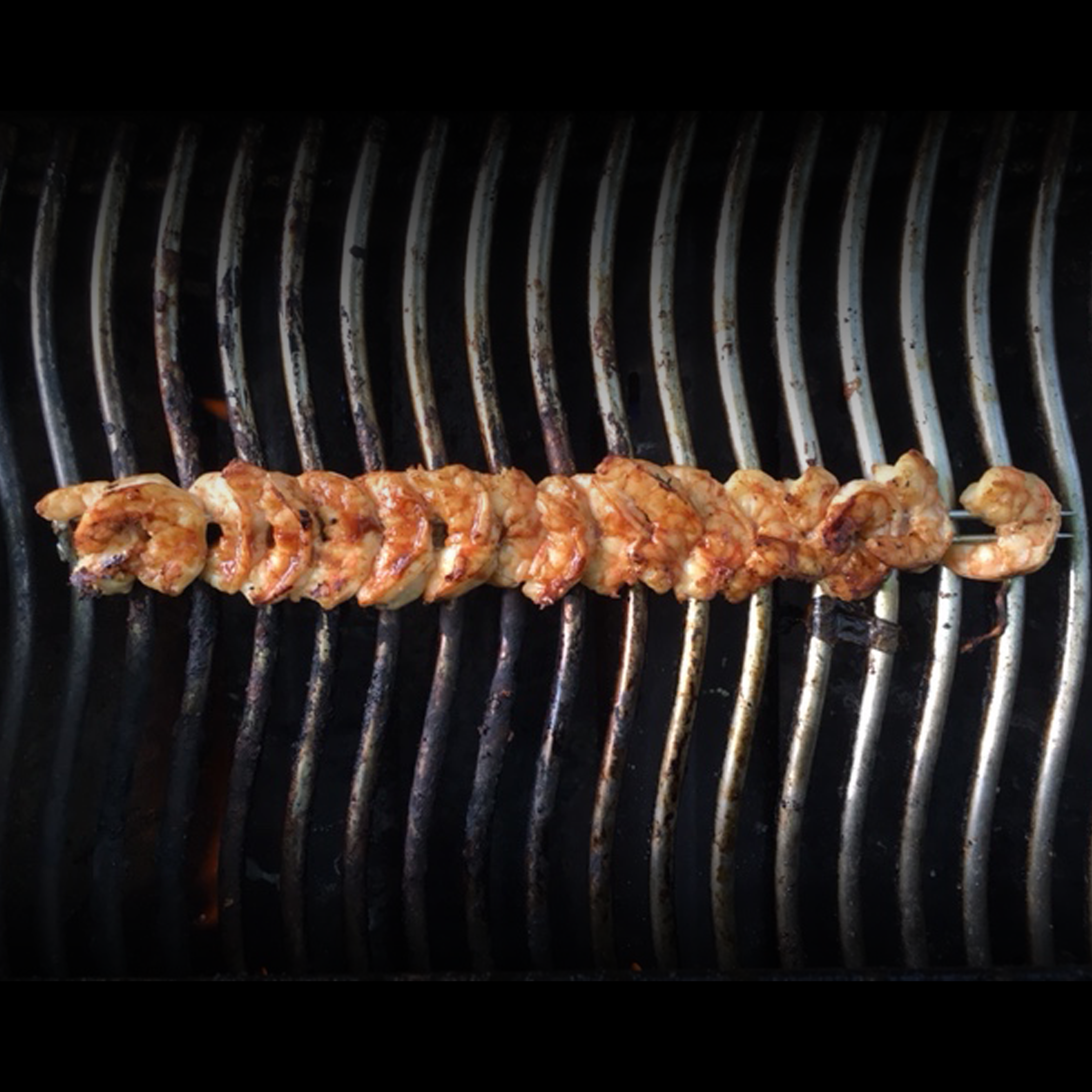 HELP ME JESUS MAKE 
BERRY GOOD GRILL AND FRY
SERVINGS: 2
INGREDIENTS
1 lb peeled and deveined shrimp
1 small onion
1 medium zucchini
1 medium yellow (summer) squash
1 small garlic
6 strawberries (refrigerated)
Lite soy sauce
1/2 teaspoon ground cayenne
Olive oil
1 Tablespoon butter
1/8 cup white cooking wine
Help Me Jesus® Hot Sauce
DIRECTIONS
Cover shrimp with lite soy sauce for 2-3 minutes and sprinkle on cayenne. Mix and let stand.

Slice onion thin and start the sauté. Use olive oil and butter to start. Grate and add garlic. Allow to cook in pan over low heat while slicing zucchini and squash. Add them to the onion and turn the heat to medium.  Do not let the pan dry out - add olive oil if necessary. Salt and pepper to taste. Skewer the shrimp and place on the grill. Cut strawberries lengthwise and put aside.

Sauté vegetables until tender, use wine to deglaze. Complete cooking and pour into a covered bowl. Lightly pour Help Me Jesus® Hot Sauce over the shrimp and flip. Do the same on both sides until they start to show the grill marks. When done, remove and slide off the skewer into the vegetables. Add the cool strawberries to the bowl. Enjoy.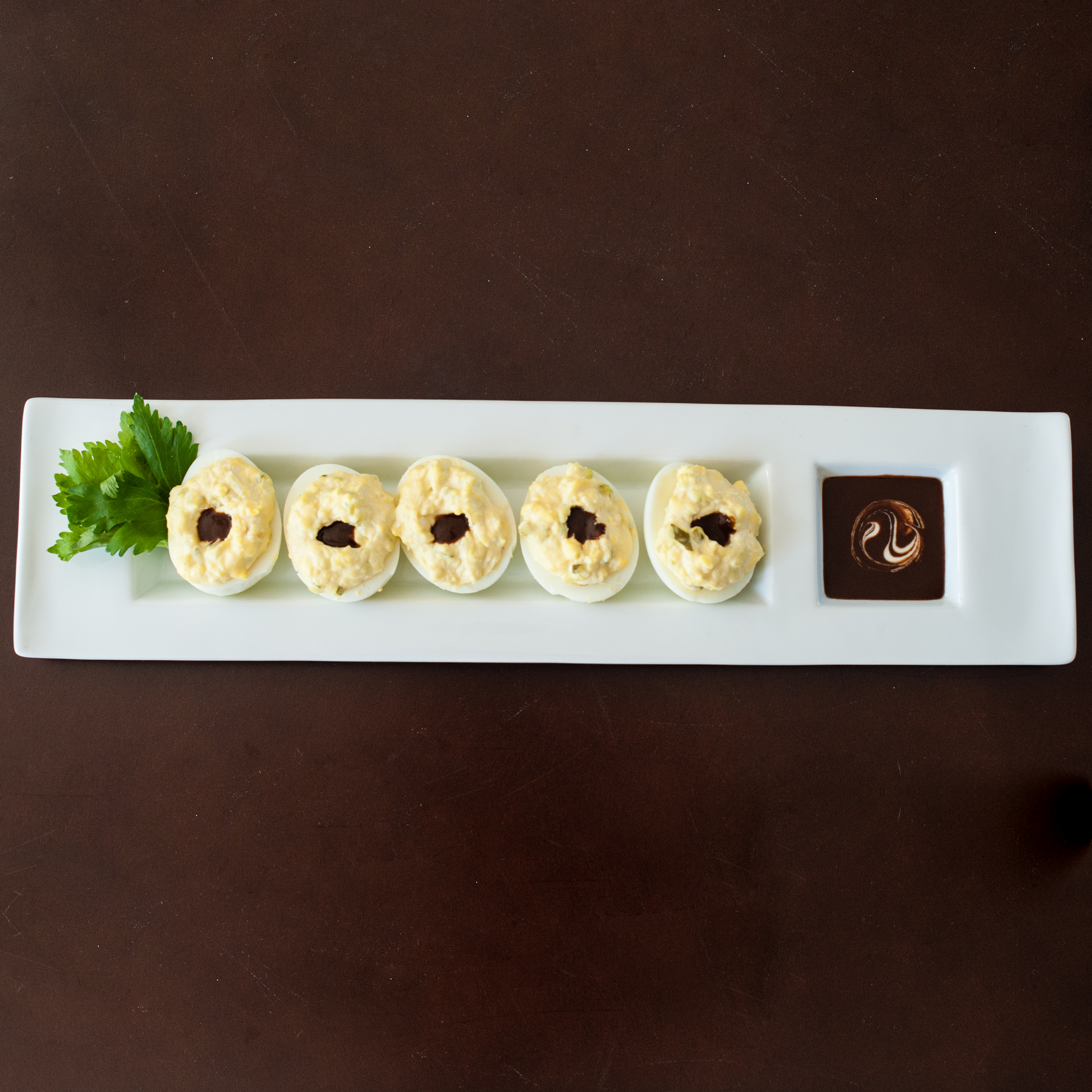 HELP ME JESUS MAKE 
EGG SHOOTERS
RECIPE
Deviled Eggs (you know how to make these)
Poke your finger into the top to make a divot and add HMJ. More for the bolder taste.
Pop the whole thing into your mouth. Don't mess around with half a bite or it all spills down your face. Bite big or go home!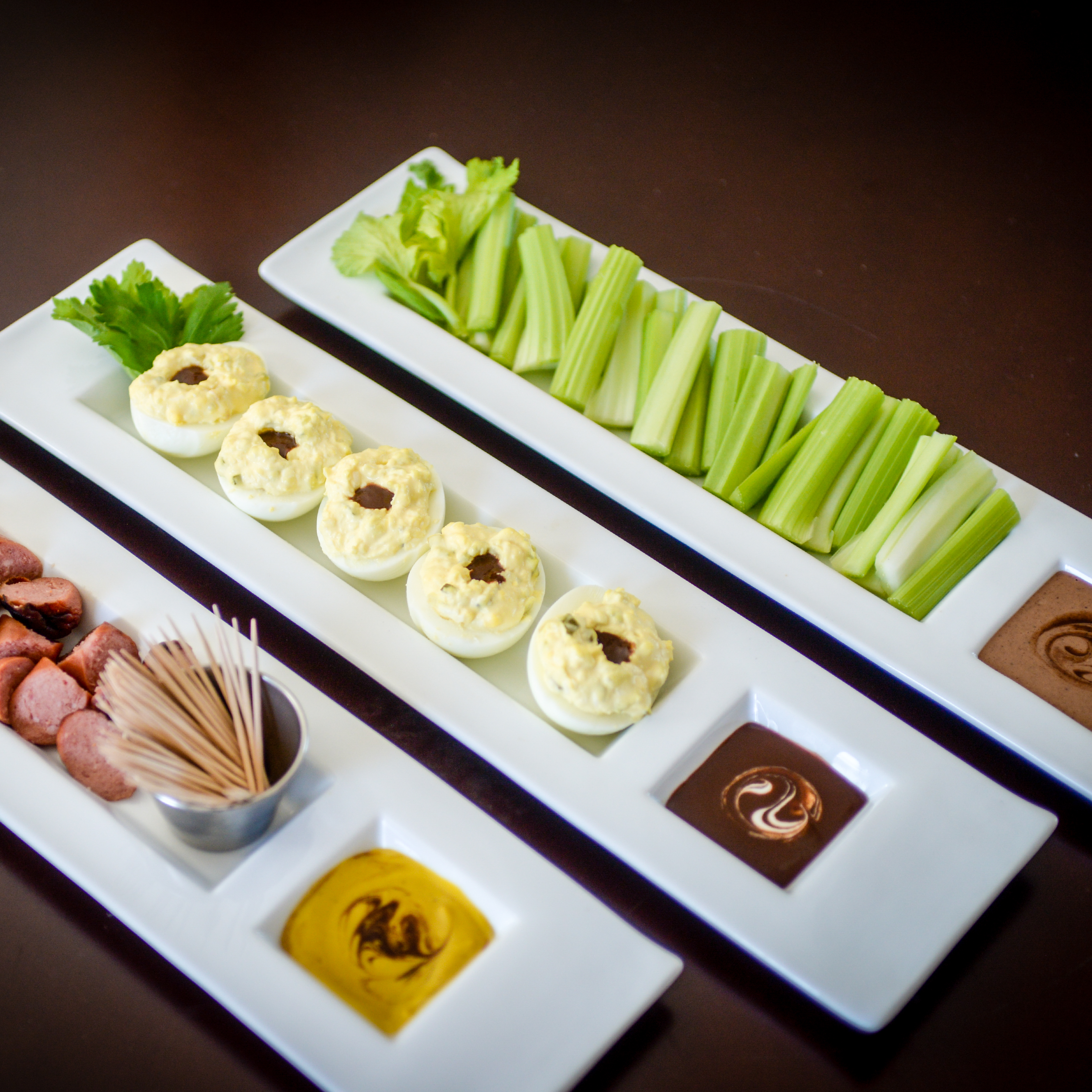 HELP ME JESUS MAKE 
A GREAT DIP
SPICY MUSTARD
Mix HMJ 50/50 with any good brand of yellow mustard. Mix well to make one color. It will be brown and spicy. 
This is great for hot dogs and other meat products.
GREAT RANCHERO
Mix any good brand of ranch dressing with HMJ to taste. We like 50/50 but you choose. Great on vegetables like celery. The cool sweet ranch is a perfect mix with light spice of HMJ Original. Works with chips too.
EGG SHOOTERS SOUR CREAM 
Another way to use HMJ is adding sour cream and mix well. You decide the mixture ratio.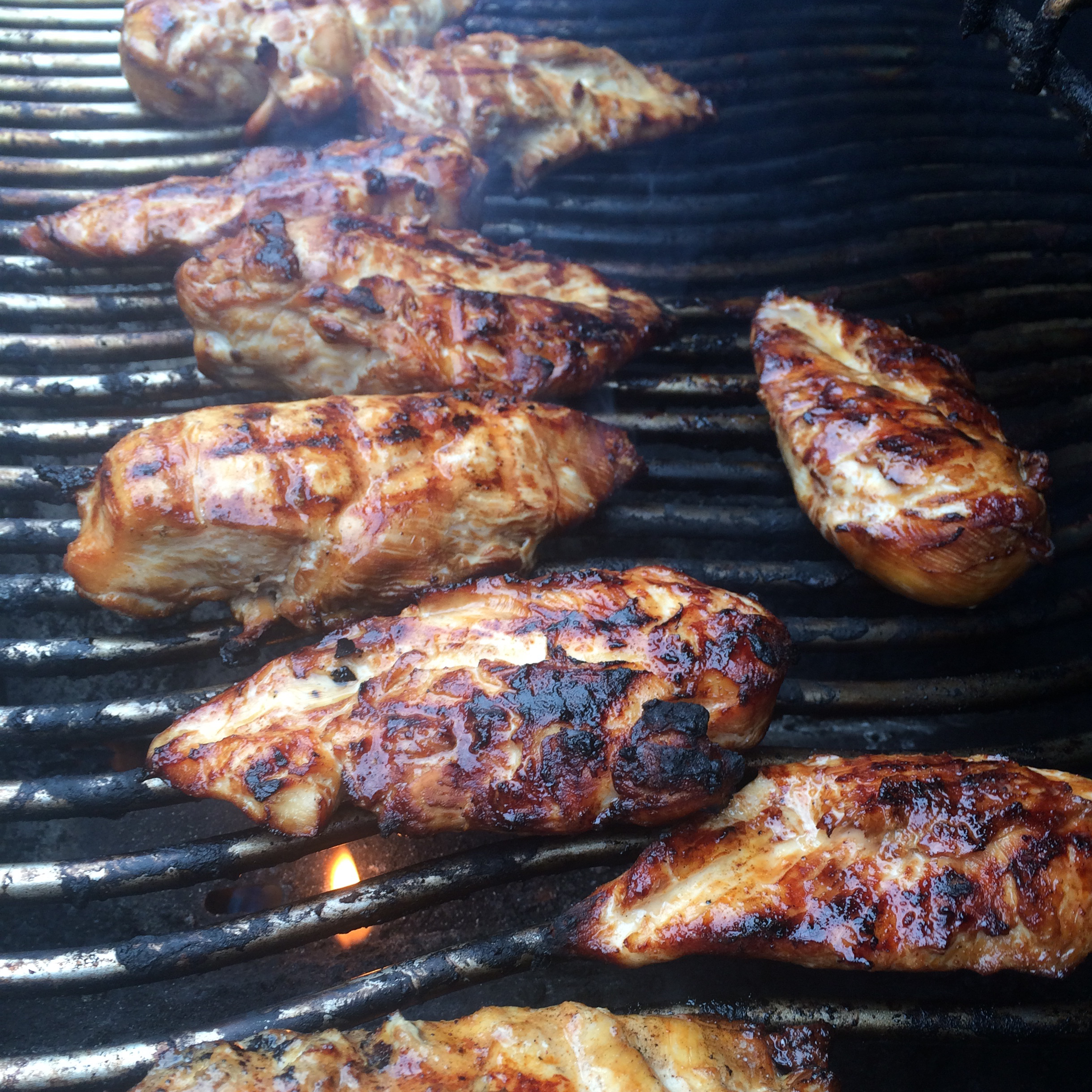 HELP ME JESUS MAKE
UNBELIEVABLE GRILLED CHICKEN
INGREDIENTS
Help Me Jesus® Hot Sauce Original
Any dry rub
Chicken breasts
Soy sauce
Brown sugar
DIRECTIONS
Soak chicken breasts in soy sauce for one hour. Use a dry rub - sprinkle it on. Place on grill. When chicken is about done brush on the HMJ original. The brown sugar in the HMJ will make a nice crust on the chicken. Let it char a little for really good taste. Brush and char both sides.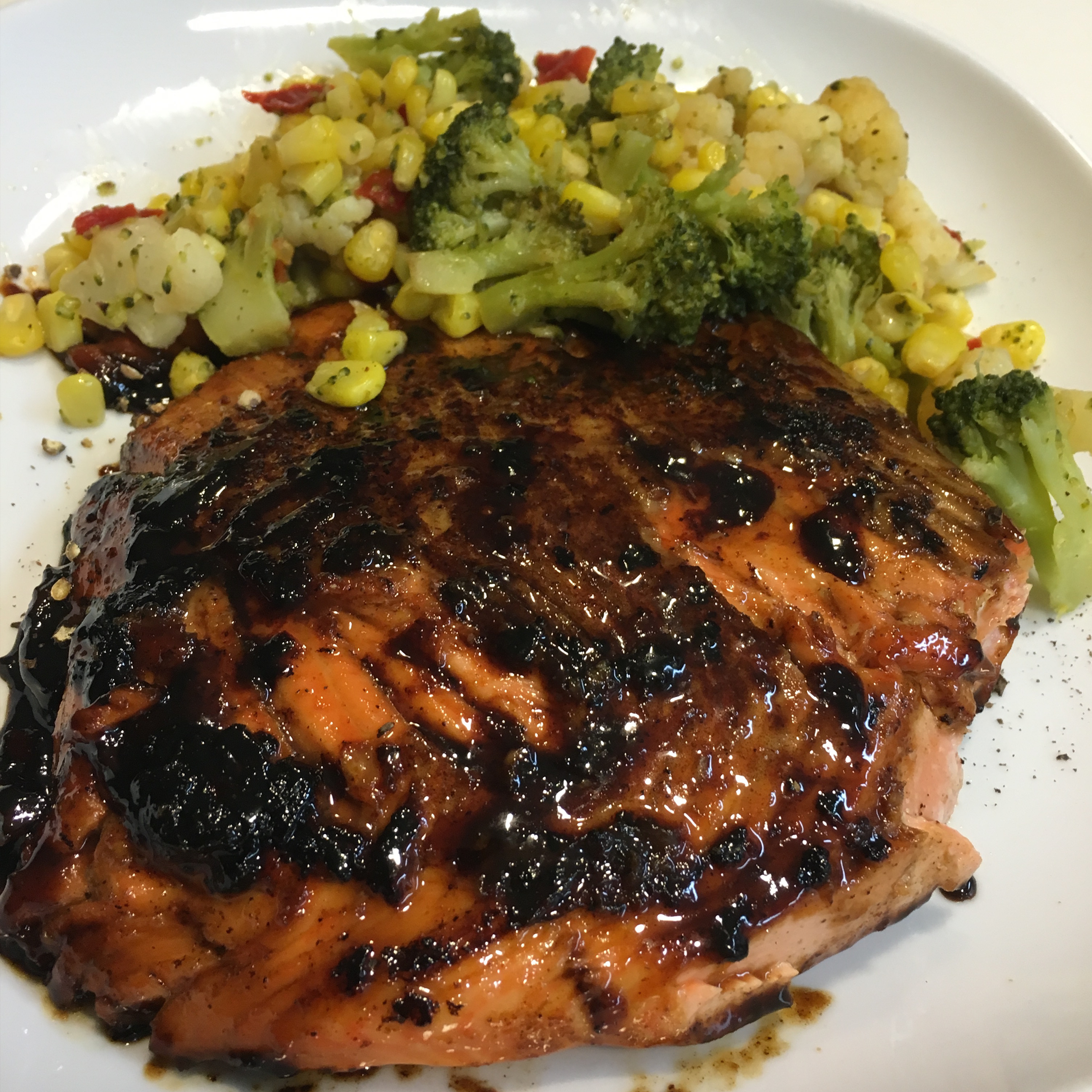 HELP ME JESUS MAKE 
OUT OF THIS WORLD GRILLED SALMON
INGREDIENTS
Help Me Jesus® Hot Sauce Original
Salmon fillets
Salt

DIRECTIONS
Salmon is a flavor unto itself so you don't want to cover it up. That's where HMJ Original comes in. The added chipotle flavor is smoky and perfect for fish because it doesn't cover the taste of the fish. Salt the salmon fillet on both sides and put on the grill. Only you know the degree of doneness you want. I like it barely cooked. Get it close to where you prefer and lightly brush on HMJ. Let it char - it won't take long.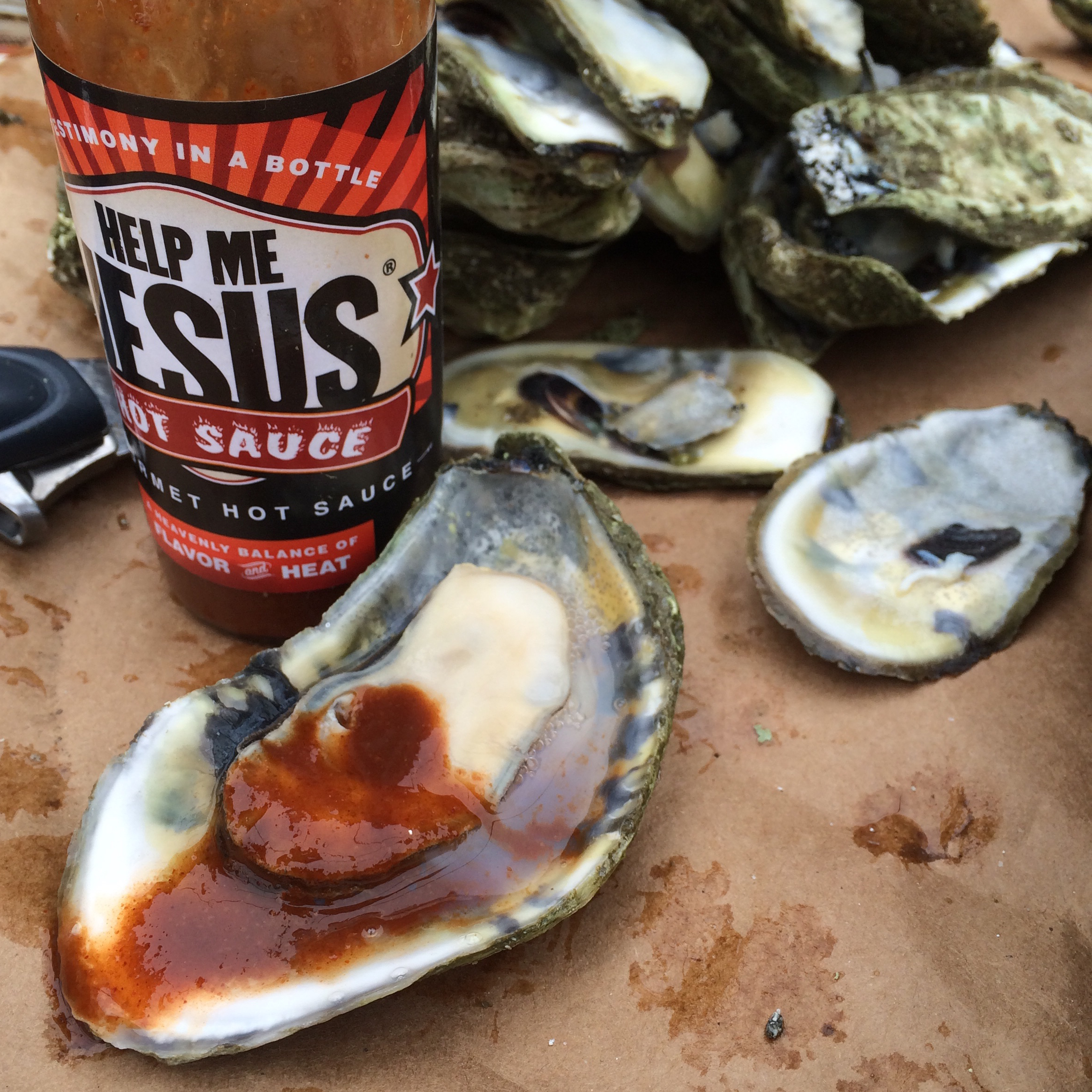 HELP ME JESUS MAKE
A TABASCO SUBSTITUTE
FOR CAROLINA OYSTERS
Not everybody likes Tabasco flavor. Use HMJ Original instead. These South Carolina oysters were provided at the Augusta National Masters Tournament. If it's good enough for them, well...